Spur ® Steel-Lok Classic Steel Shelf 1m long x 220mm deep
Stock Code: SL22S1000W
Product Details
White 1m x 220mm Steel-Lok shelves locate in the centre of the bracket. 25mm must be added to the run length to allow for the upright. The unit length for a single bay is 1025mm, 2 bays 2025 etc. For use with our 22cm Steel-Lok cantilever wall shelving brackets and uprights. Brackets and uprights not included.
Special sizes and colours available. This shelf is ideal for a huge range of applications from your beloved vinyl singles collection to your tool box but are often used in libraries, Universities, laboratories and commercial premises. As the shelf thickness is just 1mm above the bracket they offer a space saving wall mounted shelving system with extra height per location when compared with wood based shelf panels.
Proudly made in the UK.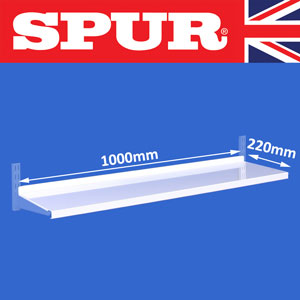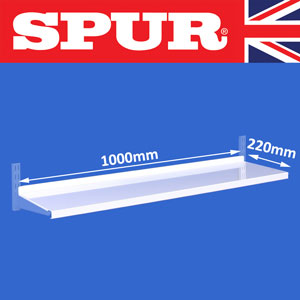 | Quantity | |
| --- | --- |
| List Price | £62.90 |
| Your Price: | £15.73 |
| 75+ items | £14.16 |
| 400+ items | £12.58 |