Spur ® 145mm bracket 150mm steel & 150 to 200mm wood shelves
Stock Code: SLBH14W
Product Details
The 145mm Spur Steel-Lok heavy duty bracket is designed for 150mm 6" wood or steel shelves and also supports 200mm 8" deep wooden shelves. They are also suitable for shelves upto 225mm but it is essential that fixing screws are used to prevent tipping.
SPUR® steel-lok 145mm shelving bracket are heavy duty and manufactured from the same steel as larger brackets in the range. The rear connection covers 4 slots in total 2 high and 2 wide. These British made shelving brackets are renowned for their superior strength and quality which has made Spur the brand of choice for wall mounted shelving..
Spur Steel-Lok has been load tested to comply with British Standards which are conservative standards the capacities of our brackets are the minimum capacity at any position on the upright whilst some competitors claim load capacities "up to" a figure which is the in some cases the failure load: our capacities are the minimum safe working load achieved and rounded down in all cases. This item offers 100Kg SWL.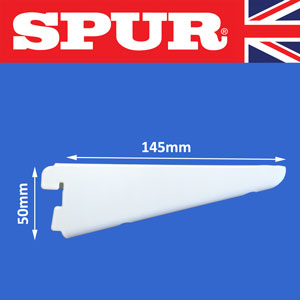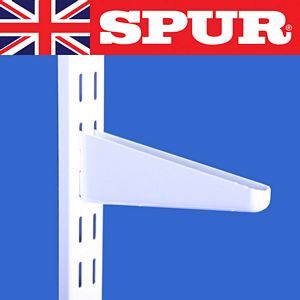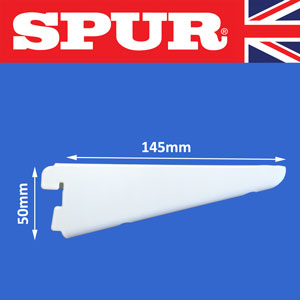 | Quantity | |
| --- | --- |
| List Price | £3.85 |
| Your Price: | £1.18 |
| 25+ items | £1.10 |
| 100 + items | £1.02 |
| 200+ items | £0.97 |
| 400+ items | £0.87 |