30cm Deep 3 shelf Galvanised 70cm W shelves 78cm H Shelving
Stock Code: BS3GV078A07030
Product Details
Ideal for use in garages, greenhouses or vaious other locations due to it's rust resitant galvanised construction.
This shelving unit is self assembled and offers a small, tidy storage solution with dimensions of 700mm wide, 300mm deep and 780mm high.
Manufactured in the UK this product offers a safe working load of 110kg per bay UDL.
The bolted construction offers a stronger, more stable build quality and the diversity to adjust the shelf levels and even add another bay on top to create a taller shelving unit.
*It is recommended that the unit it secured to the wall for extra stabilty, especially when modifying the height of the unit.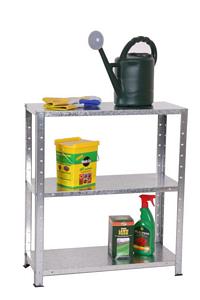 | Quantity | |
| --- | --- |
| List Price | £72.13 |
| Your Price: | £21.64 |